Demi brand + web design
summary
Need an brand refresh without investing in the full package? Get the best of both our brand and web design packages at an affordable price point. We'll create a beginner brand to get you started, and then customize the website template of your choice to infuse your unique personality.
best for
New businesses looking for a starter brand and website at a more affordable price point.
investment
Demi brand + web design can be paid in full, or broken into payments of $547 per month for 7 months.
package includes
+ Website template
+ Template customization
+ WIX training videos
+ Beginner brand: logotype, monogram, color palette, and basic style sheet
add ons
Additional pages can be added at:
+ $1,000 per page
project management
+ Mood board
+ Consulting
+ 1 phone meeting
+ Email project support
+ Asset delivery
What they're saying
"I worked with Quixotic Design Co. to design my website and brand identity and I couldn't be happier with the finished product. Meredith and team made the process super easy and exceeded my expectations every step of the way. I've had many compliments and inquiries about the design of my website and I tell everyone I can about my experience. My website and branding felt like the last hurdle for me to jump to really hit the ground running and I feel more confident than ever to grow my online presence, and ultimately my business as well!"
-Corey, Corey Allen Real Estate
Got questions?
The Username
---
Please enter your Instagram username correctly without the @ symbol or any capital letters. It should be precisely the same as it shows on Instagram; this is necessary to create the correct branded art hashtag for your art account and for us to navigate to your profile for the engagement level analyses.
---
The Email
---
We recommend you use a valid email. You might need it to reset your password if you forget it, as well as for us to contact you for more clarification about your art style if it's needed.
---
The Targeted Location
---
We will add some local art hashtags which will help the ranking of your art profile from your local art followers and audience. Furthermore, this will help you build your name as a well-known artist, giving you some opportunities for local galleries and art exhibitions.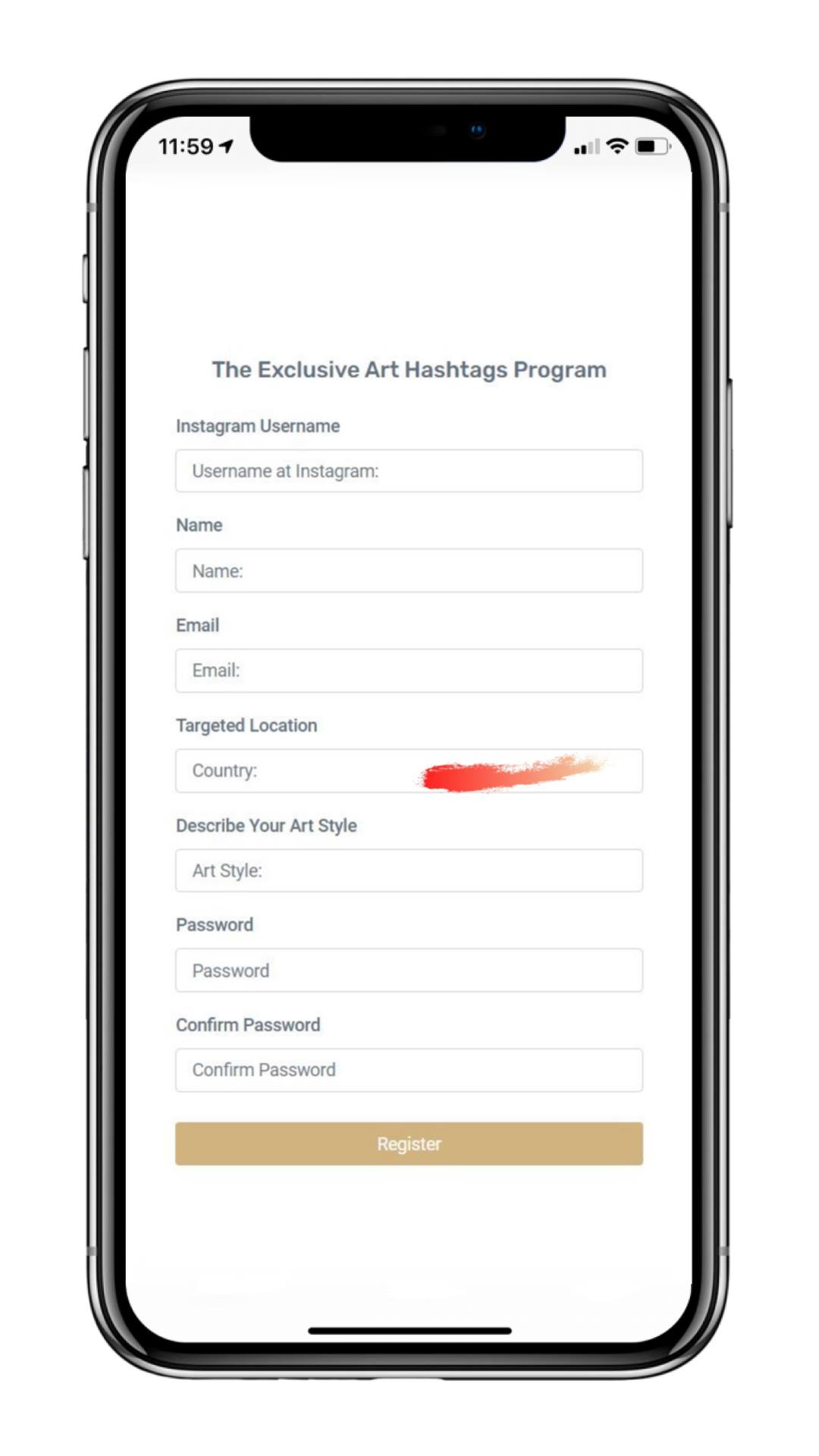 ---
Pricing and process
---
After you submit all the necessary answers, you will see the subscription page. Please keep in mind that the only available payment method for the meantime is by card; we will add other payment methods in the future. Once everything is done, the process will start. It might take a maximum of 24 hours to analyze your art profile, the engagement, and the targeted art hashtags. ​ You will receive a confirmation email once all the art hashtags have been uploaded to your dashboard. Then, you can start using your custom art hashtags.
---
The Art Style
---
This is the most critical field, and you need to describe your art style by keywords. For example:
(abstract art, abstract expressionism, urban abstract, etc.) Please try to avoid any notably broad keywords such as:
(art, painting, etc.) The searching and analysis process for the targeted art hashtags will be based on the provided keywords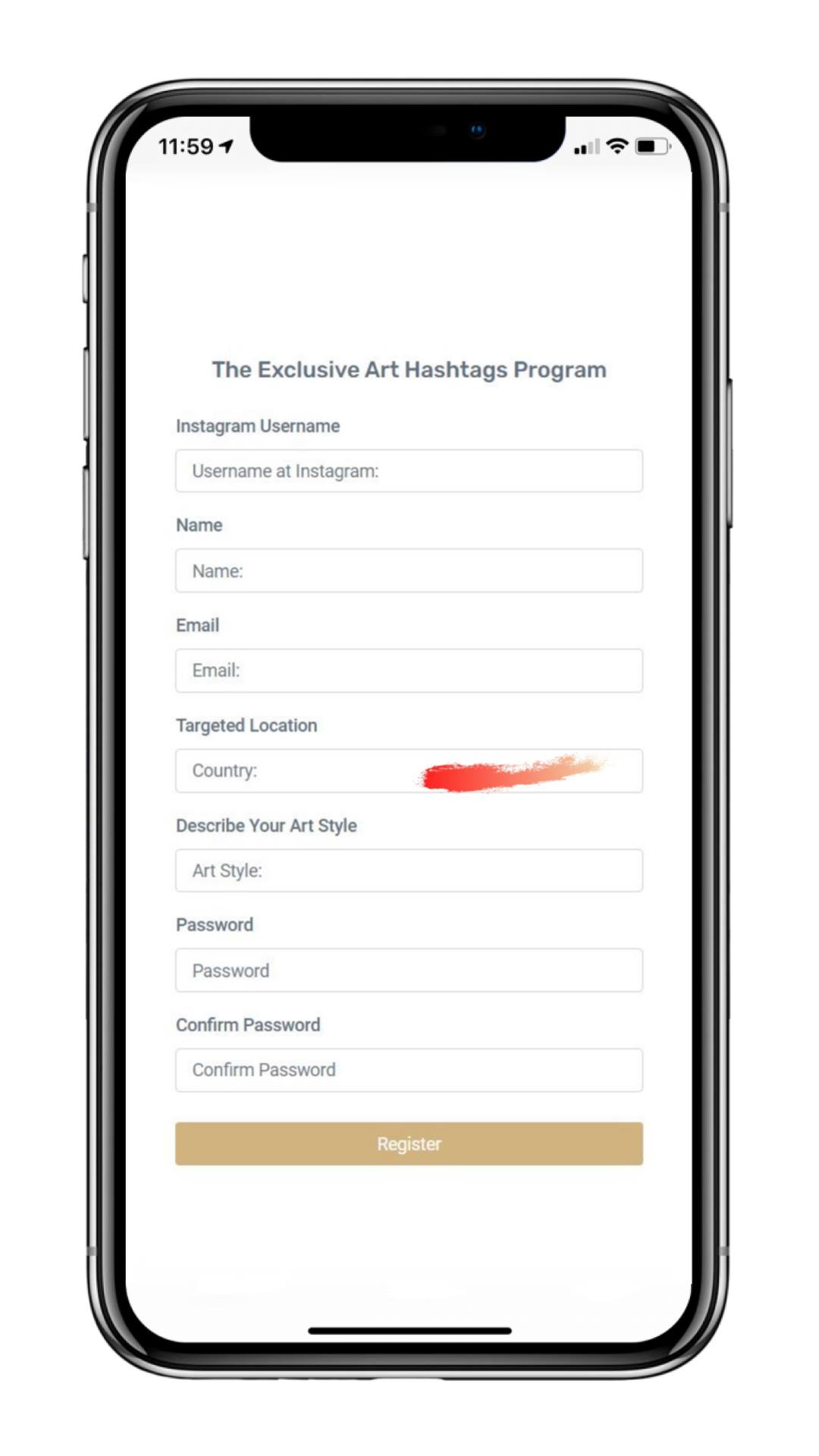 ---
---